All-on-4 Implant Solutions in Washington, MO
Dr. James Mace is proud to offer you the highest quality All-on-4 implant solutions in Washington, Missouri. With the All-On-4 approach, we at Mace Dental Group can rewind the clock and restore any smile to its former glory. After all, everyone deserves a smile that represents their inner youthfulness and vitality.
What is the All-On-4 Approach?
The All-On-4 solution is a revolutionary type of tooth replacement that offers a superior alternative to traditional dentures. An entire arch of teeth is supported by four or more implants to provide a stable, secure, and attractive smile. The teeth are fixed in place and can only be removed by the dentist. Having these implants in the bone prevents bone loss, supports and maintains your facial profile, and is easy to maintain. The implants are placed in strategic areas to ensure maximum lifespan and durability. 
In the vast majority of cases, properly placed implants will last a lifetime. The teeth supported by the implants may need service from time to time, depending on age and the forces they are subjected to. Each arch of an  All-on-4 solution can support roughly 12-14 teeth and is popular among people who prefer a permanent solution to tooth loss and who are not satisfied with their dentures.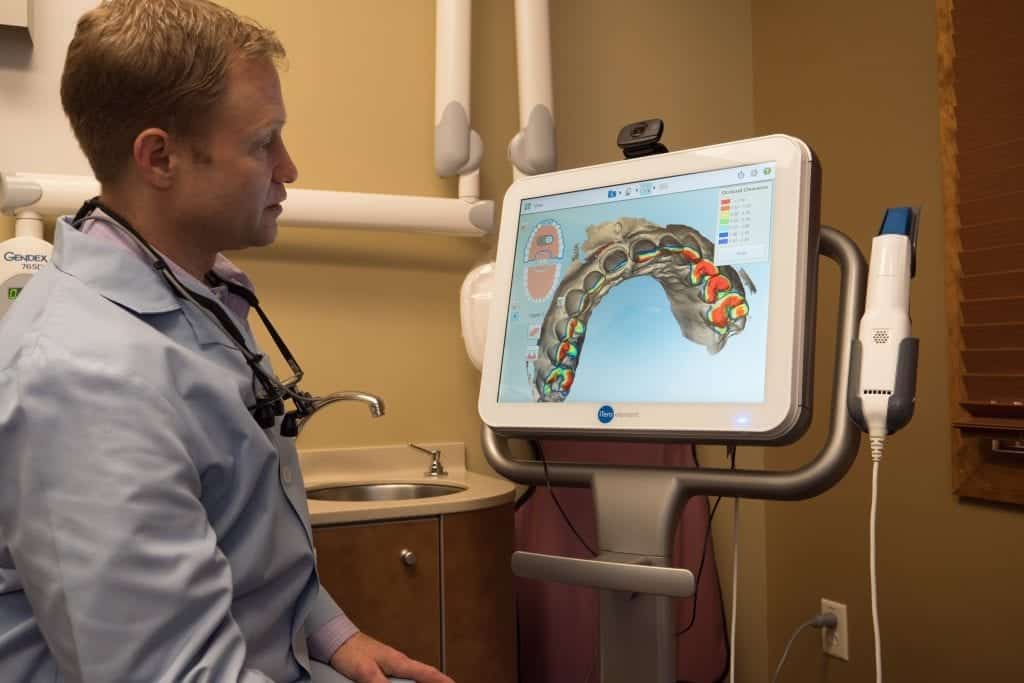 All-on-4 Treatment Process:
While steps may vary according to the individual, these are the general steps for each All-on-4 treatment:
Preliminary Appointments.

Is All-on-4 suitable for you? In this appointment, Dr. Mace will examine your dentition and answer any questions. We will take a 3D scan of your jaws to determine if there is enough bone for secure implant placement, review your medical history, and take time to understand your goals and discuss what is possible with All-On-4 treatment. If we decide to move forward with the procedure, we'll discuss the next steps and schedule the necessary appointments.
Implant Placement.

Once the preliminary records are taken, and the planning of your case is complete, we will schedule an appointment to remove teeth as needed, place implants in ideal positions, and secure a new set of teeth to the implants. In most cases, patients are able to leave our office after this appointment with teeth that are stable, look incredible, and are fixed in place!
Final Prosthesis.  Once the implants are integrated (usually three months), Dr. Mace will begin the process of designing your final set of Zirconia teeth. The esthetics and strength of zirconia are unmatched in dentistry for these cases. During this time, Dr. Mace will take all of the time needed to ensure that your final set of teeth support your face, look incredible, are realistic, and allow you to chew properly. Once complete, we'll set up follow-up appointments to make refinements and clean the implants and All-On-4-supported teeth.
All-on-4 offers a wide range of benefits worthy of consideration: 
Instantaneous Results.

All-on-4 retained implants offer you an immediate solution for a life-long issue. We've refined our treatment process to a keen edge of startling efficiency. Walk out of our office with a brand new smile you'll be excited to share with others. 
100% Natural Appearance.

We construct our implants from advanced medical porcelain that will blend in seamlessly with your teeth. All-on-4 retained implants look, feel, and function like regular teeth. 
Easy Care and Maintenance.

Unlike other dental procedures, which may require a long list of do's and don'ts, All-on-4 retained implants are incredibly self-sufficient. Regular brushing, flossing, and dental checkups will be all they need. 
Chow Down on Your Favorite Food.

We build our All-on-4 retained implants to last. They offer a strong, supportive base that can handle the pressures of day-to-day life. There are no dietary restrictions or food limitations. 
Restore Facial Structure.

All-on-4 treatment will preserve the jawbone and tooth structure. It'll stabilize your jaw, prevent bone decay, and keep your face looking sharp. 
Enhanced Durability. Unlike dentures, All-on-4 offers a permanent, durable, and irremovable solution. We use dental implants to anchor your smile; this treatment is more long-lasting and stable than its counterpart.
All-on-4 Solutions in Washington, Missouri
All-on-4 treatment paves the way for long-lasting, life-changing results. With our treatments, we can undo the damage of time and restore your smile. Our team is excited to help you throughout the process and can answer any questions. Dr. James Mace leads our team, providing excellent service to everyone in Washington, Missouri. He is a qualified dentist with decades of experience and a passion for excellence. Our reviews speak for themselves!
Need a Dental Implant? Contact us Today!