Dental Crowns Dentist in Washington, MO
Dental crowns are a great way to restore a tooth. They can also improve the appearance of your smile, and they are made to last. 
What is a Dental Crown?
If you are self-conscious about cracked, broken, decayed, or worn teeth, Dr. Mace and his team can bring back your healthy, natural-looking smile with dental crowns, also called caps. They are designed to fit snugly over your natural tooth and function as a healthy tooth. A crown will protect your tooth from further damage and preserve the jaw's correct natural alignment. A crown can also return structure, strength, and function to a tooth with extensive decay or damage. We can also use crowns to help support a dental bridge or cover up a misshapen or discolored tooth.
Mace Dental Group in Washington, Missouri, uses precious metal, porcelain pressed (or fused) to metal or all-porcelain crowns. To maintain an entirely white smile, Dr. Mace recommends all-ceramic crowns for teeth in the front of the mouth. Their precise color-matching system allows us to find the right shade of porcelain to blend with your natural tooth color. Porcelain crowns are also highly durable and long-lasting, and these benefits make them popular among patients.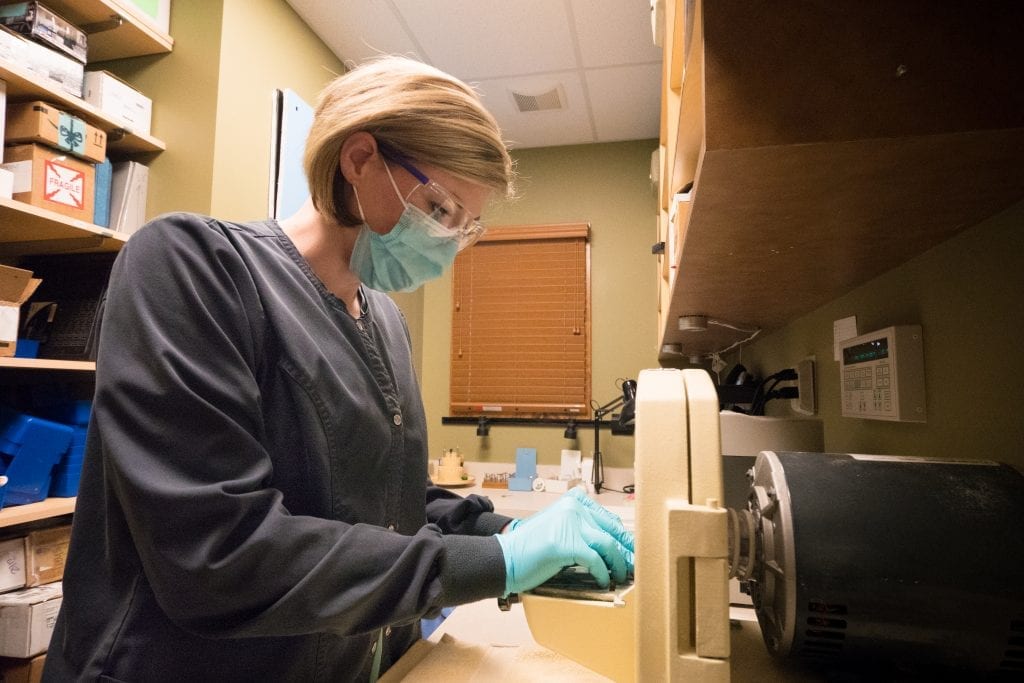 How Much do Dental Crowns Cost?
The cost of dental crowns depends on the type of crown you choose, the tooth that needs the crown, and whether or not you have dental insurance. If you have dental insurance, your policy may cover part of the cost of a dental crown. You can contact your dental insurance company or our office to estimate your out-of-pocket costs. We are proud to offer affordable financing through CareCredit to help make dental care affordable for everyone.
How Does Dr. Mace Place the Crown?
Typically, we can design, fit, and place your crowns in just a few short appointments. The first step is to have an evaluation with Dr. Mace. He will determine if you are a good candidate for a crown, and he may also take some X-rays to help in the assessment. Once we determine that you need a crown, Dr. Mace will prepare your tooth for the crown. Preparation involves removing any decay or damage and shaping the tooth so that the crown can fit over it properly.
Once we prepare your tooth, Dr. Mace uses the iTero 3D scanner to create an incredibly accurate digital model of your teeth. This information is then sent to Eurodent Dental Lab to have your crown sculpted precisely to match your smile perfectly. Sometimes, a temporary crown may be placed over your tooth while your permanent crown is being made. Once your permanent crown is ready, Dr. Mace will cement it into place.
How Long do Dental Crowns Last?
Dental crowns are a long-lasting solution for repairing damaged teeth. The better you take care of them, the longer they can last. Once a crown is placed, you can care for it as you do your natural teeth. 
Conscientious brushing twice a day and daily flossing will protect the base of your crown from bacterial growth. Take care when biting into hard foods, and avoid using your teeth as tools. Be sure to visit Mace Dental Group, in Washington, Missouri, at least twice each year for professional cleanings and a preventive exam.
Dental Crowns for a New Smile in Washington, Missouri
With dental crowns from Mace Dental Group, you can have a healthy, natural-looking smile again. You will love the results you get from our high-quality dental crowns. Not only will they restore function and strength to your teeth, but they will also make them look natural and healthy again.
Schedule an appointment today with Dr. Mace at Mace Dental Group for a consultation on dental crowns. Let us help you get back your beautiful smile