Invisalign in Washington, MO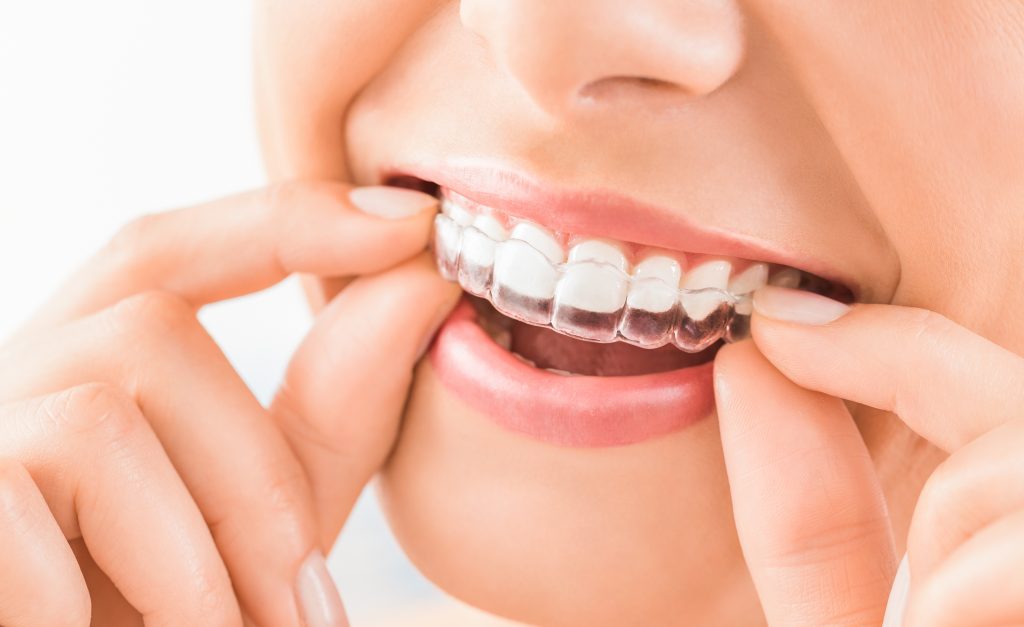 The most attractive thing you can wear is a smile. So it makes sense that having misaligned or crooked teeth would make you feel less confident. Invisalign in Washington, MO, is a revolutionary approach to treating crooked teeth. Without braces, you can straighten your teeth gently and effectively.
More than merely creating the perfect smile is attainable with orthodontics. These treatments ensure healthy jaw alignment and help prevent future misalignment problems. It's equally crucial to maintain good oral health and a beautiful smile as it is to achieve them. With the assistance of our staff, we will walk you through the entire process.
As a leading provider of Invisalign in Washington, Missouri, we work hard to provide the highest caliber braces so you can be proud of your smile. For a student or professional with a busy social life, Invisalign is a fantastic alternative to conventional orthodontic braces. It is the least noticeable and most practical orthodontic therapy available. Like traditional braces, Invisalign gradually provides pressure to the teeth to move them into the correct position. Using computer software, we create a set of clear aligner trays for your mouth as part of the Invisalign treatment.
Following your initial Washington Invisalign consultation, we establish a treatment plan and produce your custom aligners using the knowledge of Mace Dental Group and 3D computer imaging. We will show you exactly how Invisalign will align your teeth by bringing up this simulation of your teeth on a monitor. We will use Invisalign's SmartTrack® material to create your personalized aligners. Most people won't even notice you are wearing them while having your teeth straightened because they are practically invisible.
For optimal results, wear your Invisalign clear aligners for 20 to 22 hours each day, taking them out only to eat, brush, and floss. Make sure to put them on in the proper sequence. Each tray represents a different stage in the therapy process. The astounding results, which typically take between 6 and 12 months to materialize, may be delayed unless you follow these guidelines.
Why Choose Invisalign?
Why is Invisalign appealing to so many people? Many people choose Invisalign because it has many advantages and benefits over its conventional alternatives. Some of the benefits include:
Comfortable: There are no pokey wires and sharp edges to irritate your cheeks and gums. The removable Invisalign clear aligner trays are smooth and comfortable to use. Therefore, you are free to carry on with your regular activities, including eating anything you like and brushing and flossing your teeth.
Invisible: Most people won't even be aware that you're undergoing treatment because of Invisalign's virtually invisible aligners!
Proven Results: Clinical studies have shown that the SmartTrack® material and SmartForce® features of Invisalign clear aligners increase control of tooth movement. Invisalign corrects dental irregularities such as crossbites, crowding, open bites, gapped teeth, overbites, and underbites.
Convenient: Considering that you must visit our clinic once every six weeks, Invisalign treatment is perfect for your hectic schedule.
Fast Treatment: You can get the smile you want even faster with weekly aligner changes. If you respond well to treatment, especially if you're an adult, we might consider using longer intervals between aligners.

How to Care for Your Aligners
There are simple instructions for caring for your clear aligners.
When you take out your aligners, rinse your mouth with water.
Refrain from cleaning aligners with hot water.
Use soap to clean the aligner. Never clean them with toothpaste. You can clean the aligners with a soft brush.
Brush and floss your teeth before putting on aligners.
When not in use, store the aligner in the included box.
Invisalign in Washinton, MO
Want to straighten your teeth with little impact on your daily routine? We are a leading provider of Invisalign aligners in Washington, MO, so contact Mace Dental Group for world-class services and exceptional results. Schedule a consultation today.