Dental Implants in Washington, MO
Are you missing teeth? Missing teeth can be embarrassing and make it challenging to eat your favorite foods. But maybe you don't want to deal with dentures that slip. Mace Dental Group offers high-quality All-On-4 dental implants in Washington, MO. They can restore your ability to eat your favorite foods and smile confidently with dentures that won't slip.
Get Dental Implants in Washington, Missouri
Dr. Mace offers a stable, beautiful alternative to bridges, partials, or complete dentures with dental implants. Dental implants will improve your smile and lifestyle because they look, feel, and function like natural teeth. We attach the dentures to titanium posts that bond to your jawbone and serve as artificial tooth roots. They provide an incredibly stable and long-lasting platform for dentures.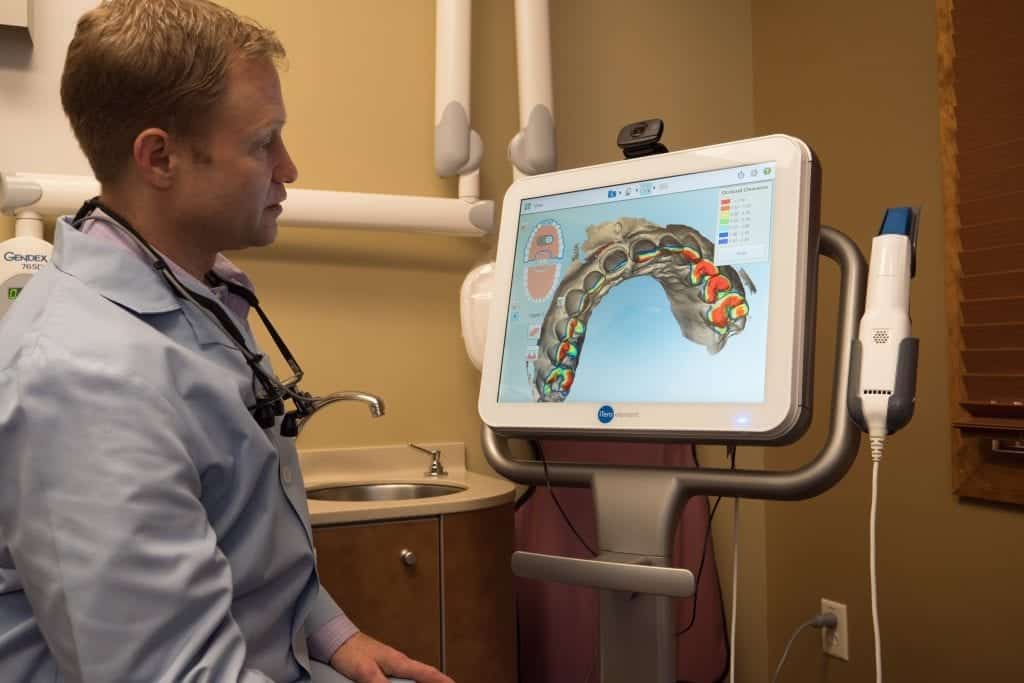 Mace Dental Group provides the clinically proven, All-On-4 dental implant solution in Washington, Missouri. If you are missing teeth or need an extraction, the All-On-4 treatment solution can be an excellent alternative to traditional dentures. With this procedure, we can place four dental implants in your jaw and then attach a full set of dentures. The dental implants will give you a secure fit and allow you to eat your favorite foods again.
The All-On-4 approach provides a stable dentition that looks, functions, and feels like natural teeth. Over 98% of patients who have had this treatment say they would recommend the All-On-4 treatment. Dental implants and All-On-4 solutions offer a prosthetic that closely mimics your natural dental structure by imitating an entire natural tooth from the root up. The result? Restored function – they allow for a healthy diet of even hard-to-chew foods. Missing teeth can also affect speech and may improve with implant dentures. 
Research has proven that implants last longer and have a higher success rate than any other alternative known to dentistry. Solid and secure, your new smile will boost your confidence, enhance your appearance, and improve your quality of life.
How Are Dental Implants Placed?
After a thorough evaluation, Dr. Mace will determine whether you are a candidate for dental implants. The first stage of the procedure involves careful planning, imaging, and design to ensure a successful outcome. Dr. Mace uses a 3-dimensional imaging system called CareStream 8100 CBCT to plan your implant surgery safely and reliably. He virtually models the implant placement before your treatment to ensure a smooth procedure.
During the surgery, a titanium implant is precisely placed in an optimal position based on your anatomy. Nature will take its course, allowing your bone tissue to fuse with the implant and create a solid foundation for your teeth. Once the implants have integrated, Dr. Mace will attach a handcrafted, permanent tooth replacement custom-designed for you. The restorations will match your natural teeth and blend seamlessly with your smile. 
How Much Do All-On-4-Dental Implants Cost?
The cost of All-On-4 dental implants will vary depending on the number of implants needed and the complexity of your case. After your consultation, Dr. Mace will develop a personalized treatment plan with an estimate of the costs involved.
Mace Dental Group is committed to providing affordable dental care that fits your budget. We offer financing options to make your treatment more affordable. We also accept most major dental insurance plans.
Contact us Today for All-On-4-Dental Implants!
You'll love the convenience and comfort of our treatment. Our experienced team will take care of everything for you, from the initial consultation to the final fitting of your new dentures. We want you to have a beautiful smile that you can be proud of – and All-On-4 dental implants are the best way to achieve that goal.
Contact us today for a free consultation! We'll be happy to answer any questions you have. Let's get started on your brand-new smile!
Need a Dental Implant? Contact us Today!