Pediatric Dentistry in Washington, MO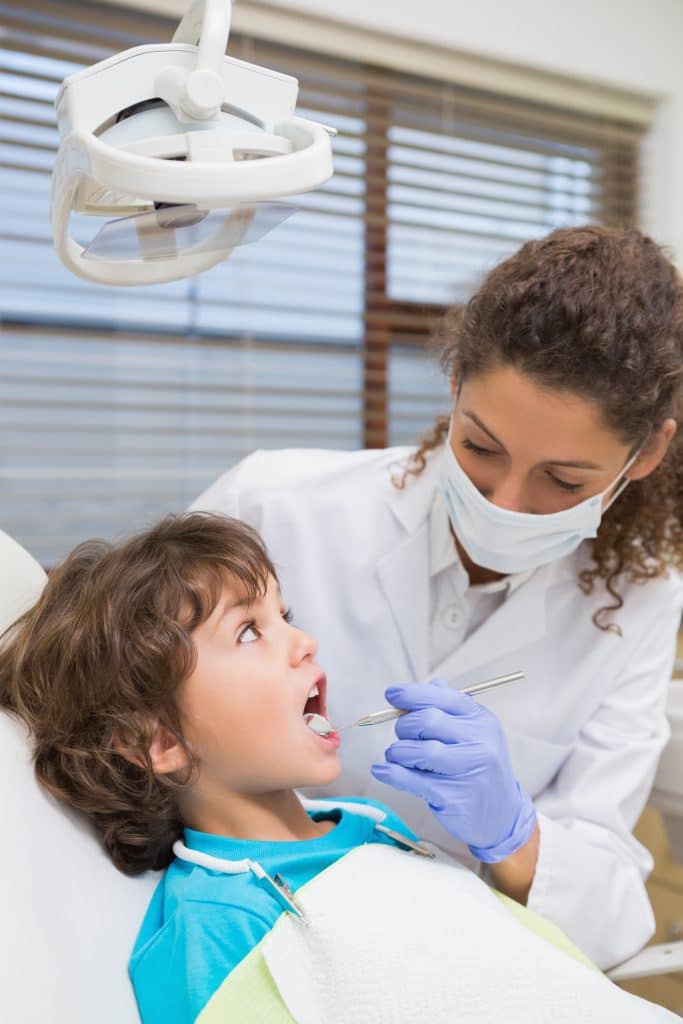 Pediatric Preventive Care
Pediatric preventative care is the key to better oral health outcomes for our little patients. Only with regular professional dental cleanings and examinations can we spot signs of potential issues like cavities and gum disease early on and intervene before costly treatments become necessary. We recommend that kids start visiting the dentist at age one or shortly after that to get used to our friendly faces at an early age. Together, we will ensure their smiles stay healthy and strong for many years! Our pediatric preventive care services include:
– Professional cleanings: Regular dental care is vital for your child's oral health, starting with their first teeth. Professional cleanings are the perfect way to keep those pearly whites healthy! Pediatric cleanings provide preventive care against cavities and gum disease and early detection and treatment of any existing problems. A professional pediatric cleaning every six months will ensure your child's precious smile stays strong and healthy throughout childhood and beyond! We know how to take excellent care of children and adolescents, so you can be sure that your child is receiving gentle and effective treatment from an expert.
– Oral hygiene instructions: We will teach your child proper brushing and flossing techniques to keep their teeth clean and healthy! We know that teaching children the importance of oral hygiene can be challenging, so we make sure to offer age-appropriate instructions and tips on keeping their smiles looking great.
– Fluoride treatments: Fluoride treatments are essential for protecting your child's teeth against cavities. We provide pediatric fluoride treatments to help strengthen the enamel of your little one's teeth and protect them from decay.
– Sealants: Dental sealants are a great way to guard against cavities in your child's molars. By placing protective sealants on the back teeth, we can help reduce your child's risk of developing cavities and make it easier for them to keep their molars clean.
Pediatric Restorative Treatments
We are dedicated to providing the most caring, patient-centered care for your little ones. Pediatric restorative care is an integral part of this commitment; our goal is to help kids maintain strong, healthy smiles for life! We have the techniques and meticulous attention to detail necessary to provide treatments tailored to your child's needs. Call us today so we can help you keep your children smiling! Our restorative services include:
– Dental fillings: Dental fillings are a standard treatment for cavities in pediatric patients. We use tooth-colored composite to repair teeth that have been affected by decay, helping to prevent further damage and infection.
– Dental crowns: A dental crown can restore a damaged tooth to its original shape, strength, and size. We'll ensure that your child's teeth are restored correctly and remain comfortable throughout the process.
Pediatric Orthodontics Services
Invisalign is an excellent way to get your teen's teeth into the best possible shape. Not only are the clear aligners nearly invisible when worn, but they also don't interfere with sports or other activities the way traditional braces can. Since the aligners need to be changed every two weeks, Dr. Mace can check in regularly with your teen to ensure their straightening is on track and comfortable. And with no metal wires or brackets, they'll stay confident while they get a great smile.
Pediatric Dentist in Washington, MO
When it comes to pediatric dentist in Washington Mo, it's crucial to have a pediatric dentistry provider as part of your child's healthcare team to ensure that their dental needs are properly addressed. Contact us today to schedule a consultation with Dr. Mace – we look forward to seeing you soon! Don't wait to start your child on the path to a perfect smile.